5 frequent mistakes when selling property
Selling property raises many questions, to which lay people often cannot find an answer. This results in typical mistakes. In order to avoid these and prevent unpleasant surprises, this post will give you an overview of what you need to pay particular attention to.
1. Wrong assessment of time and effort
The sale of a house costs not only time but also money. In addition to viewings and the determination of the offer price, you should also plan for the costs of important documentation. It is advisable to draw up a time and finance plan so that you are prepared and avoid time pressure as well as additional costs.
2. Incorrectly calculated sales price
The importance of realistic pricing cannot be underestimated. If you set the price for your property too high, potential buyers will be put off. If you set it too low, you create suspicion or you give away real money. Therefore, have your house or apartment professionally valued by a real estate expert like us at 9045 REAL ESTATE. We take all key factors into account, such as the location and the furnishings, and determine the true value of your property.
3. Unprofessional property presentation
The property profile is the "business card" of your house or apartment. To ensure it impresses right from the start, appealing photos are as important as meaningful text. To convert interested parties into buyers, we support you with the optimal presentation of your property.
4. Missing documentation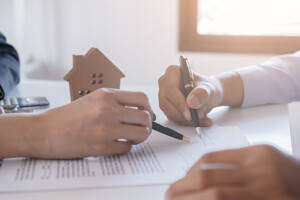 When selling a property, you are required to provide a large variety of documents. These include the energy certificate that must be available no later than at the time of viewings. You should also present a floor plan, an extract from the land register, and measurement and maintenance records. Invoices for refurbishing work should also be made available.
5. Insufficient credit assessment of potential buyers
Your sale should have gone through, but you are still waiting for your money? This is usually due to an inadequate credit check. You should therefore check the solvency of your prospective buyer to ensure that you can relax and release your property into good hands.
9045 REAL ESTATE - Your strong partner for real estate sales
Selling property is fraught with many potential mistakes. At 9045 REAL ESTATE, we are here to assist you with any questions you may have, allowing you to relax into a carefree and successful sales process. Please contact us for an initial consultation.