Professional sales - in Germany, Austria & Italy
The stylish vineyard in Tuscany, the land or house in the Bavarian mountains, the country house in South Tyrol, the exclusive villa in Sardinia. No matter what type of property you would like to sell in Germany, Austria or Italy: 9045 REAL ESTATE are the right partner for you. Only a few real estate agents are specialised in intercultural real estate brokerage in these regions and enable professional purchase transactions between clients at home and abroad.
Your support for a reliable real estate sale
A property - whether a holiday apartment in beautiful South Tyrol or a holiday home on Lake Wörthersee - always has a value, not only monetary but also emotional. As a non-professional, you may find it difficult to assess the value of a property or you may not have the necessary expertise to organise a sale professionally and meet all the legal requirements. It is therefore all the more important to us that you, as a seller, receive the best possible support: competent advice, personal guidance and professional handling. Especially when selling real estate in Austria and Italy, it is advantageous to have an expert partner who is familiar with all the formalities, requirements, culture and language.
You can also rely on our support in obtaining all the necessary documents. In addition, we are happy to assist you in valuing your property abroad, commissioning professional photographers and creating informative property profiles that showcase your property in the best possible light. This saves you time and work when selling your property on Lake Garda, in Tuscany, Sardinia or South Tyrol.
Your real estate expert for property in the south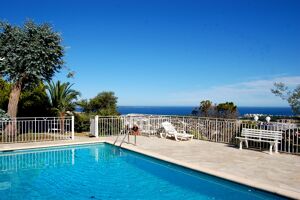 As experienced estate agents with a high level of expertise in southern property markets, we not only help you find a new owner for your property, but also ensure that the sale progresses smoothly and professionally. We reduce the risk that the sales process will drag on for too long, that the prospective buyer will drop out, or that the property is sold below value. In addition, you do not have to be on site when we carry out viewings, conduct purchase negotiations with interested parties or hand over the property to the new owner. We are happy to take on these tasks on your behalf, giving you the opportunity to pursue your work, spend time with your family or enjoy "La Dolce Vita".
Our real estate experts offer comprehensive and transparent advice to enable you to make all the decisions for the sale, for yourself and for the property. Please contact us for a consultation.
Warum sollte ich einen Immobilienmakler für den Verkauf meiner Immobilie beauftragen?
Der Verkauf und die anschließende Übertragung einer Immobilie sind an gesetzliche Vorgaben gebunden, die Eigentümer und Käufer beachten müssen. Dies trifft ebenfalls für Auslandsimmobilien zu, bei denen die jeweiligen Landesvorgaben gelten. Qualifizierte Makler sind mit den rechtlichen Rahmenbedingungen vertraut und organisieren eine sichere Vermittlung von Immobilien. Neben den formaljuristischen Aspekten spielt auch die Dynamik des Marktes eine wichtige Rolle, die direkten Einfluss auf den Wert einer Liegenschaft nimmt. So gehören eine professionelle Wertermittlung, eine hohe Verhandlungssicherheit und kundenorientierte Vermarktungsstrategien zu den weiteren Vorteilen bei der Immobilienvermittlung über einen Makler. Zudem profitieren Verkäufer von einem umfassenden Service, bei dem die gesamte Vermittlung mit inbegriffen ist, was für Eigentümer eine erhebliche Zeitersparnis darstellt.
Wie sieht ein professionelles Exposé aus?
Zu den bedeutendsten Unterlagen einer Immobilienvermittlung gehört das Exposé in Print- und Digitalausfertigung. Hier sind alle relevanten Daten zur Immobilie hinterlegt, die für die Interessentenseite von Bedeutung sind. Neben hochwertigen Ablichtungen der Immobilie und der maßstabsgetreuen Darstellung von Grundrissen dient ein professionelles Exposé als Visitenkarte einer Liegenschaft. Hier geht es nicht darum, mögliche Mängel zu kaschieren, sondern die Vorteile und die Besonderheiten hervorzuheben. Dazu gehören ebenso Informationen zur Lage, der Infrastruktur sowie eine Beschreibung der näheren Umgebung. Darüber hinaus sollte auch die Privatsphäre der Verkäufer bestmöglich geschützt werden.
Welche Unterlagen benötigt der Makler für den Verkauf einer Immobilie?
Als wichtigstes Dokument für den Verkauf einer Immobilie zählt der Eigentumsnachweis. Die als Grundbuchauszug bekannte Auskunft gibt Aufschlüsse über die jeweiligen Besitzverhältnisse und enthält darüber hinaus Informationen zur Liegenschaft. Sofern vorhanden, sollten auch Baupläne und Grundrisse von der Immobilie beigelegt werden. Gleiches gilt für den Energieausweis, der bei vielen Bestandsimmobilien allerdings noch erstellt werden muss. Für eine detaillierte Bewertung des Gebäudezustands sind auch Unterlagen über Reparatur- und Sanierungsarbeiten von Vorteil. Sollten amtliche Dokumente nicht auffindbar oder vorhanden sein, lassen sich diese Unterlagen per Vollmacht einfordern. Dies gehört zum Service eines seriösen Maklerbüros, das sich gerne um alle Anliegen rund um die Immobilie kümmert.
Bekomme ich mit einem Makler mehr für meine Immobilie?
Bei einer Immobilienvermittlung ist stets das Risiko abzuwägen, das mit einem Verkauf verbunden ist. Werden bereits bei der Preisfindung Fehler gemacht, kann dies einen endlos langen Verkaufsprozess nach sich ziehen, der sich am Ende auch finanziell bemerkbar macht. Eine markt- und zeitgerechte Wertermittlung gelingt im Regelfall nur über einen erfahrenen Makler, der das Gesamtpotenzial der Immobilie richtig einschätzt und eine zielgerichtete Vermarktung organisiert. Und diese sorgt schlussendlich dafür, dass Eigentümer oftmals einen höheren Preis erzielen als bei einem Verkauf in Eigenregie.