Professional sales - in Germany, Austria & Italy
The stylish vineyard in Tuscany, the land or house in the Bavarian mountains, the country house in South Tyrol, the exclusive villa in Sardinia. No matter what type of property you would like to sell in Germany, Austria or Italy: 9045 REAL ESTATE are the right partner for you. Only a few real estate agents are specialised in intercultural real estate brokerage in these regions and enable professional purchase transactions between clients at home and abroad.
Your support for a reliable real estate sale
A property - whether a holiday apartment in beautiful South Tyrol or a holiday home on Lake Wörthersee - always has a value, not only monetary but also emotional. As a non-professional, you may find it difficult to assess the value of a property or you may not have the necessary expertise to organise a sale professionally and meet all the legal requirements. It is therefore all the more important to us that you, as a seller, receive the best possible support: competent advice, personal guidance and professional handling. Especially when selling real estate in Austria and Italy, it is advantageous to have an expert partner who is familiar with all the formalities, requirements, culture and language.
You can also rely on our support in obtaining all the necessary documents. In addition, we are happy to assist you in valuing your property abroad, commissioning professional photographers and creating informative property profiles that showcase your property in the best possible light. This saves you time and work when selling your property on Lake Garda, in Tuscany, Sardinia or South Tyrol.
Your real estate expert for property in the south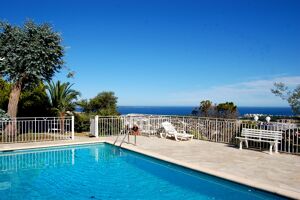 As experienced estate agents with a high level of expertise in southern property markets, we not only help you find a new owner for your property, but also ensure that the sale progresses smoothly and professionally. We reduce the risk that the sales process will drag on for too long, that the prospective buyer will drop out, or that the property is sold below value. In addition, you do not have to be on site when we carry out viewings, conduct purchase negotiations with interested parties or hand over the property to the new owner. We are happy to take on these tasks on your behalf, giving you the opportunity to pursue your work, spend time with your family or enjoy "La Dolce Vita".
Our real estate experts offer comprehensive and transparent advice to enable you to make all the decisions for the sale, for yourself and for the property. Please contact us for a consultation.
Why should I hire an estate agent to sell my property?
The sale and subsequent transfer of a property are bound by legal requirements that owners and buyers must observe. This also applies to foreign real estate, where the respective country's regulations apply. Qualified real estate agents are familiar with the legal framework and organise a safe brokerage of real estate. In addition to the formal legal aspects, the dynamics of the market also play an important role, directly influencing the value of a property. Thus, a professional valuation, a high degree of negotiating certainty and customer-oriented marketing strategies are among the other advantages of real estate brokerage through an agent. In addition, sellers benefit from a comprehensive service that includes the entire brokerage process, which saves owners a considerable amount of time.
What does a professional exposé look like?
One of the most important documents of a real estate agency is the exposé in print and digital form. It contains all the relevant data on the property that is important for the prospective buyer. In addition to high-quality photographs of the property and the true-to-scale presentation of floor plans, a professional exposé serves as a property's business card. The aim here is not to conceal possible defects, but to highlight the advantages and special features. This also includes information on the location, the infrastructure and a description of the immediate surroundings. In addition, the privacy of the seller should be protected as best as possible.
What documents does the agent need for the sale of a property?
The most important document for the sale of a property is the certificate of ownership. This information, known as an extract from the land register, provides information about the respective ownership and also contains information about the property. If available, building plans and floor plans of the property should also be enclosed. The same applies to the energy certificate, which still has to be issued for many existing properties. For a detailed assessment of the building's condition, documents on repair and renovation work are also advantageous. If official documents cannot be found or are not available, these documents can be requested by power of attorney. This is part of the service of a reputable real estate agency, which is happy to take care of all matters relating to the property.
Will I get more for my property with an estate agent?
In real estate brokerage, the risk associated with a sale must always be weighed up. If mistakes are already made in the pricing, this can result in an endlessly long sales process, which in the end also makes itself felt financially. As a rule, a valuation that is in line with the market and in time can only be achieved through an experienced estate agent who correctly assesses the overall potential of the property and organises targeted marketing. And this ultimately ensures that owners often achieve a higher price than when selling on their own.