Let your property without stress - in Bavaria, South Tyrol, on Lake Garda or on Sardinia
Do you own a holiday apartment in the Bavarian mountains or on Lake Garda? Would you like to let your holiday home in Sardinia or South Tyrol for the time you are not using it for yourself? If you do not want to handle the renting out of your properties in Southern Germany, Austria and Italy by yourself, we are the real estate experts for you. Our support, expertise and experience in real estate leasing work to your advantage.
Your partner for less effort and risks in letting
Do you own a property in the south of Germany, in neighbouring Austria or in Italy and worry how best to rent it out? Or do you lack the time to take care of the rental because you are not on site yourself? We take away your worries and save you time and work. We relieve you of all matters concerning the rental of your property on Lake Garda, in South Tyrol, in Tuscany, on Sardinia or any other place in the south.
Put your property in good hands - count on our expertise and support, ranging from obtaining important documents to pre-selecting first-class rental applicants.
Your benefits from letting through 9045 REAL ESTATE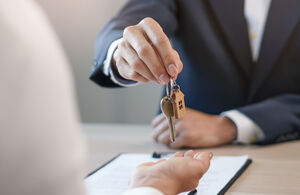 Thanks to our expertise and specialisation in Southern Germany, Austria and Italy, we reduce language barriers with local authorities and service providers, the overall rental effort and risks due to possible cultural differences.
In addition, when you let through us at 9045 REAL ESTATE, you enjoy the following benefits:
Your holiday property is monetised if you do not use it yourself
Regular income from renting to financially sound tenants
No effort on your part required for marketing and letting
Rental is managed even if you are not present
You can always rely on the right partners!
If a prospective tenant is looking for a holiday property to rent, we refer their enquiry to our local partners. Through a local contact person, we ensure that neither language nor cultural barriers impede the process. We at 9045 REAL ESTATE always remain available to advise and support you. Please feel free to make an appointment for a personal conversation!
Letting a property - with or without an estate agent?
If you as a landlord are familiar with the legal framework for tenancy agreements and also have an eye on the condition of the building, you can let a property on your own. In addition, there is the time required for the commercial administration and the procurement of the living space, should a house or flat need to be re-rented. This is much easier with an estate agent at your side, because not only can you take advantage of target group-oriented marketing as a service, but you can also conclude a legally binding contract and coordinate a change of tenant. Especially if the rented property is not in the direct vicinity of one's own place of residence, there is a lot to be said for hiring an estate agent.
How do I calculate the rent as a landlord?
The most important reference point for setting the rent is the so-called rent index. Every year, it lists the average rent per square metre in the respective region. The location-specific situation is of particular importance, because there can be considerable differences between individual districts. On the basis of this data, a rent customary in the market can be determined more closely, provided that the square metre declared as living space is also correctly measured. However, caution is advised with rent increases, as these must be well justified and comply with legal requirements. The calculation should also always take into account investment costs for maintenance work and possible loan repayments in order to prevent financial risks.
Do I need special insurances as a landlord?
Whether you rent out a property as part owner or owner, these three insurances should be in place:
1. Liability insurance for homeowners and landowners
This insurance is prescribed by law and is therefore indispensable. It covers damage caused to third parties by structural defects or disregard of the obligation to clear and grit.
2. Homeowners insurance
When taking out such an insurance policy, it is essential to make sure that natural hazards are also covered. All components that are part of the interior and exterior of a building are insured through a corresponding policy. This also includes damage caused by storms, for example. Furthermore, additional glass breakage insurance is recommended if large window areas are part of the property.
3. Loss of rental income insurance
It is highly advisable to have loss-of-rent insurance, which covers rent arrears and damage caused by careless tenants. By the way, all of the above-mentioned insurances are tax deductible.
What belongs in a tenancy agreement?
Starting with the beginning of the rental period, it is equally important to define contractual details as precisely as possible. This includes, for example, the obligation to pay rent and ancillary costs as well as the tasks that a tenant has to carry out. Deposit payments and the handover condition upon moving out should also be recorded in writing. The legal security of a contract can be checked by estate agents and lawyers.